March 11, 2017 at Rillito Clubhouse the AQRA honored the 2016 Champions in these categories:
AZ BRED TWO YEAR OLD Colt Cowboys Dynasty by Fdd Dynasty out of Mexican Radio OWNED BY Alvara Monteverde
7 starts 2 wins 1 seond and 2 thirds $37,281 earnings
Az BRED TWO YEAR OLD GELDING ARIZONA ICON BY TEXAS ICON AND OUT OF JESS PERFECT GIRL OWNED LAS VEGAS RANCH
6 STARTS 3 WINS 1 SECOND AND ONE THIRD WITH $28,554 IN EARNINGS
AZ BRED TWO YEAR OLD FILLY: FROZEN ICON BY TEXAS ICON OUT OF ICEBREAKER OWNED BY MARTHA WELLS
5 STARTS 0 WINS 3 SECONDS ONE THIRD
TWO YEAR OLD OPEN FILLY: MAGNIFCENT JESS BY ONE SWEET OUT OF LAST TO CHECK HIM OWNED BY UGO DE LA TORRE
2 STARTS 2 WINS $37,273 IN EARNINGS
AZ BRED THREE YEAR OLD GELDING : HEZA ROYAL JESS BY MR JESS PERRY OUT OF IM A ROYAL SATIN OWNED BY H AND E RANCH
5 STARTS 1 WIN 2 SECOND 1 THIRD $19,422
OPEN THREE YEAR OLD GELDING …FIGHTER GONE WILD BY FIGHTER ON FIRE AND OUT OF WANNA KNOW BY NOW OWNED BY TOM LICHLYTER
11 START 2 WINS 3 SECONDS AND 1 THIRD $20,497 EARNINGS
OPEN THREE YEAR OLD COLT: MAY BE FANTASIC SA BY FANTASTIC CORONA , JR. OUT OF DARLIN TRES OWNED BY ORLAND GUERRERO
5 STARTS 4 WINS 0 SECONDS AND 1 THIRD $39,113
AZ BRED YEAR OLD FILLY: JESS CALL ME FANCY BY JESS GIVE IT EM OUT OF MONIQUE QUICK CASH OWNED BY RAY FELIX
6 STARTS 3 WINS $21,465 EARNINGS
ARIZONA BRED AGED GELDING: JESS A COWBOY BY DEJON AND OUT OF SECRET RETURN OWNED BY LARRY STARK (Phyllis too ill to travel)
3 starts 1 win 2 seconds $27,444 earnings
OPEN AGED GELDING: EYESA FAMOUS EAGLE BY ONE FAMOUS EAGLE OUT OF EYESA GLASS OWNED BY RICARDO RAMIREZ
START 1 WIN 1 CHALLENG 440 CHAMPIONSHIP QUALIFIED AND RAN 3RD IN THE CHALLENGE CHAMPIONSHIP
AZ BRED AGED STALLION: HEAT WARNING BY A REGAL CHOICE OUT OF TS A DRY HEAT OWNED BY RALPH AND CAROLYN FALES
START 1 RAN 4TH 440 CHALLNGE CHAMPIONSHIP… $3944 FOOTNOTE QUALIFIED FOR THE CHALLENG CHAMPIONSHIP RAN 4TH GOT A
INVITATION TO THE CHAMPION OF CHAMPIONS RAN 5TH
OPEN AGED MARE: SARA SOTA BY IVORY JAMES OOUT OF KPAX OWNED BY Y/N STABLES 4 STARTS 1 WIN 2 SECONDS AND 1 THIRD $8,022 EARNINGS
AZ BRED AGED MARE: MAGICAL RIGHTER BY RIGHTER OUT OF FANTASTIC DREAM OWNED BY AMANDA CASPER 5 STARTS 1 WIN EARNINGS $ 8,022
ARIZONA BRED DISTANCE HORSE: MICKEY WARD BY FDD DYNASTY OUT OF A MERE FORMALITY OWNED BY RALPH AND CARRIE FALES 1 START 1 WIN
$9,855 EARNINGS
OPEN DISTANCE HORSE OLD TROUBADOUR BY SNOWBOUND OUT OF SUN CHICKS FLY OWNED BY JESUS OLIVAS 5 STARTS 2 WIN 2 SECOND 1 THIRD
ARIZONA TRIPLE CROWN: FROZEN ICON BY TEXAS ICON OUT OF ICEBREAKER OWNED BY MARTHA WELLS TRAINED BY MATT FALES
FROZEN ICON RAN IN ALL THREE RACES FINISHING 7TH IN THE D C FUT GETTING 4 POINTS…RACING SECOND IN THE ASOA FUT GETTIG 9 POINTS
AND RACING SECOND IN THE AQRA FUTURITY GETTING 9 POINTS. 22 POINTS TO BEAT OUT ARIZONA ICON BY 2 POINTS.
CHAMPION BROODMARE THIS YEAR IS JESS PERFECT GIRL BY FEATURE MR JESS AND OUT OF LOOK BOTH WAYS OWNED BY LAS VEGAS RANCH AND
MOTHER OF ARIZONA ICON SHE HAS A 2015 FILLY BY TEXAS ICON PERFECT AZ CAN BE AND A 2016 FILLY BY TEXAS ICON LAS VEGAS COWGIRL TO LOOK FORWARD TO IN THE FUTURE…
CHAMPION ARIZONA SIRE TEXAS ICON 2016 FIRST RACING CROP ARIZONA ICON WINNER AQRA FUT AND ASOA FUT FROZEN ICON RAN 2ND
IN THE AQRA FUT AND ASOA FUT COUNTRY ICON AMERE ICON BLOWN AWAY TEDDY BREWSKY COZIE ICON CANTHYOUSEE BIG TEXAS
CARTEL JIMMINY CRICKET…. EARNINGA $86,262 FOR 2016
CHAMPION BREEDER…..RALPH AND CARRIE FALES 80 STARTS 14 WINS $174,138.00 AND 376 AQHA POINTS
CHAMPION OWNER…..RALPH AND CAROLYN FALES 66 STARTS 13 WINS $156,060.00 AND 473 AQHA POINTS
CHAMPION TRAINER….MATT FALES 177 STARTS 23 WINS $366,216.00 EARNINGS AND 811 AQHA POINTS CHAMPION
JOCKEY….MARTIN BOURDIEU 263 STARTS 48 WINS $630,339.00 EARNINGS AND 689 AQHA POINTS
AQRA HORSE OF THE YEAR……………………….ARIZONA ICON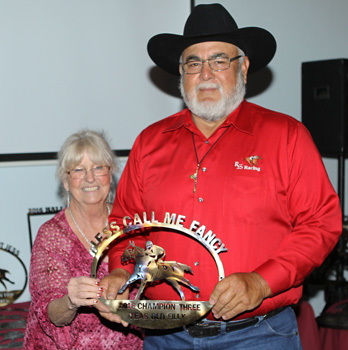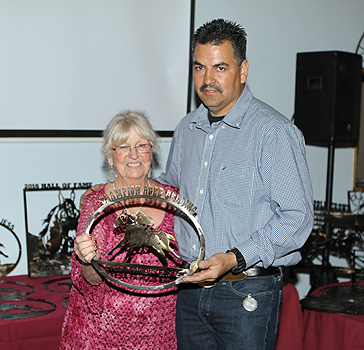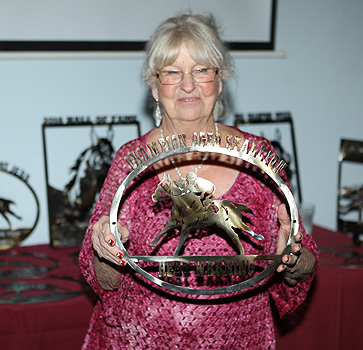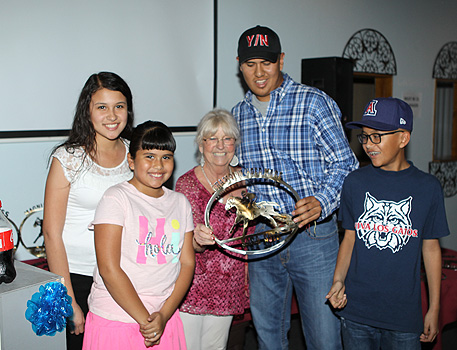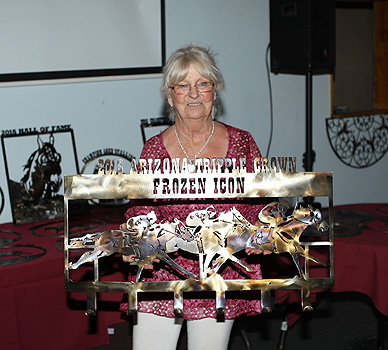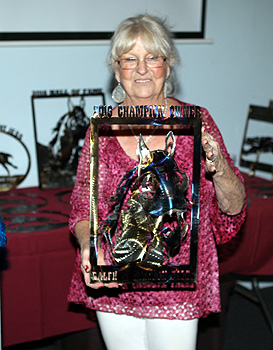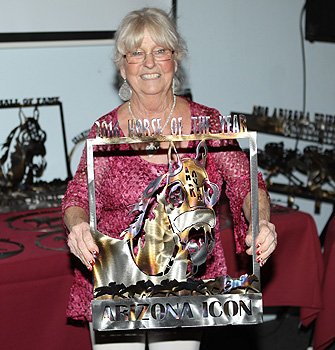 ALL OWNERS MUST BE MEMBERS IN GOOD STANDING WITH THE AQRA TO RECEIVE AWARDS.... All memberships are due January of each year. For
your convenience there is a membership blank on the back side of this program….Pay now and get your points started for the new year…
We will also be having Hall of Fame inductions….
CATS POLICY AND LORETTA BRASHER
There is a silent auction … all proceeds to the AQRA Youth Scholarship program…AQRA still has stallion services for sale.
THANK YOU TO Jaye Wells AND THE WHOLE CREW AT RILLITO FOR HOSTING THIS EVENT. (PRESENTATION OF PAINTING AS THANKS)
CONGRATULATIONS TO ALL THE CONNECTIONS TO THESE FINE HORSES…
AWARDS WERE DESIGNED BY AMY FREESTONE OF G & A STEELE OF THATCHER, ARIZONA

---
Arizona Quarter Racing Association
P.O. Box 1316 Thatcher, AZ 85552
Office Phone- 602-625-0468
Email- lbaqra@hotmail.com
AZQRA. All rights reserved. Site proudly designed and hosted by Big Sky Internet Design.